"Game of Thrones" und Co.
Das sind die Emmy-Gewinner 2019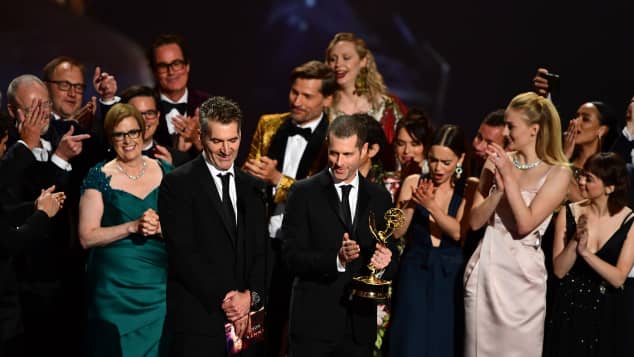 zur Bildergalerie
(© Getty Images)
Die ganze Welt blickte am Sonntag auf Los Angeles, wo die Emmy Gewinner 2019 bekanntgegeben wurden. Wir verraten euch, wer den wichtigsten Fernsehpreis der Welt in diesem Jahr mit nach Hause nehmen konnte. 
Die Emmy Gewinner 2019 stehen fest. Der wichtigste Fernsehpreis der Welt wurde am Sonntag in Los Angeles verliehen. Schon im Vorfeld stellte "Game of Thrones" mit 32 Nominierungen einen Rekord auf, alle Preise konnte die Serie aber selbstverständlich nicht mit nach Hause nehmen. Dennoch war die Fantasy-Serie der große Gewinner des Abends mit insgesamt 12 gewonnenen Emmys. Unter anderem gewann sie den Preis in der Kategorie Beste Dramaserie.
Das sind die Emmy-Gewinner 2019:
Beste Dramaserie
"Better Call Saul"
"Bodyguard"
"Game of Thrones" - Gewinner
"Killing Eve"
"Ozark"
"Pose"
"Succession"
"This is Us – Das ist Leben"
Bester Hauptdarsteller - Drama
Jason Bateman – "Ozark"
Serling K. Brown – "This is Us – Das ist Leben"
Kit Harrington – "Game of Thrones"
Bod Odenkirk – "Better Call Saul"
Billy Porter – "Pose" - Gewinner
Milo Ventimiglia – "This is Us – Das ist Leben"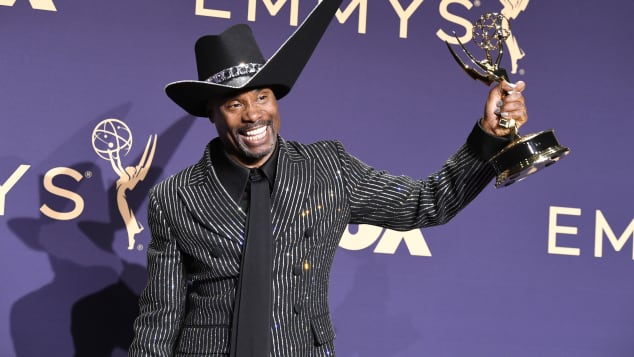 (© Getty Images)
Beste Hauptdarstellerin – Drama
Emilia Clarke – "Game of Thrones"
Jodie Corner "Killing Eve" - Gewinnerin
Viola Davis – "How to Get Away with Murder"
Laura Linney – "Ozark"
Mandy Moore – "This is Us – Das ist Leben"
Sandrah Oh – "Killing Eve"
Robin Wright – "House of Cards"
Bester Nebendarsteller – Drama
Alfie Allen – "Game of Thrones"
Jonathan Banks – "Better Call Saul"
Nikolaj Coster-Waldau – "Game of Thrones"
Peter Dinklage – "Game of Thrones" - Gewinner
Giancarlo Esposito – "Better Call Saul"
Michael Kelly – "House of Cards"
Chris Sullivan – "This is Us – Das ist Leben"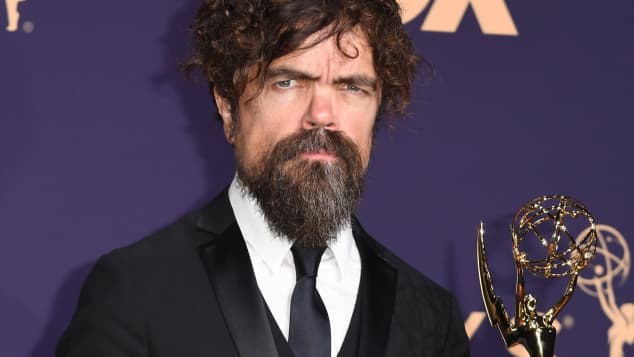 (© Getty Images)
Beste Nebendarstellerin – Drama
Gwendoline Christie – "Game of Thrones"
Julia Garner – "Ozark" - Gewinnerin
Lena Headey – "Game of Thrones"
Fiona Shaw – "Killing Eve"
Sophie Turner – "Game of Thrones"
Maisie Williams – "Game of Thrones"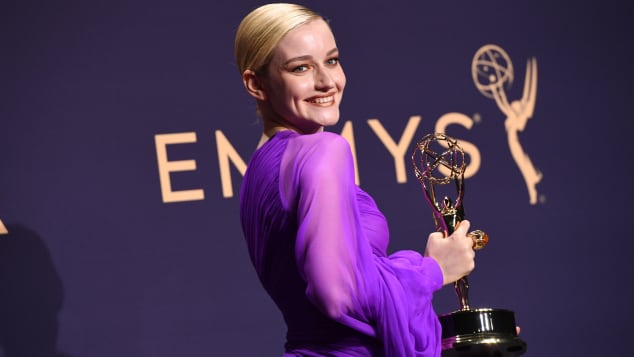 (© Getty Images)
Beste Comedy-Serie
"Barry"
"Fleabag" - Gewinner
"The Good Place"
"The Marvelous Mrs. Maisel"
"Matrjoschka (Russian Doll)"
"Schitt's Creek"
"Veep – Die Vizepräsidentin"
Bester Hauptdarsteller – Comedy
Anthony Anderson – "Black-ish"
Don Cheadle – "Black Monday"
Ted Danson – "The Good Place"
Michael Douglas – "The Kominsky Method"
Bill Hader – "Barry" - Gewinner
Eugene Levy – "Schitt's Creek"
Beste Hauptdarstellerin – Comedy
"Christina Applegate – "Dead to Me"
Rachel Brosnahan – "The Marvelous Mrs. Maisel"
Julia Louis-Dreyfus – "Veep – Die Vizepräsidentin"
Natasha Lyonne – "Matrjoschka (Russian Doll)"
Catherine O'Hara – "Schitt's Creek"
Phoebe Waller-Bridge – "Fleabag" - Gewinnerin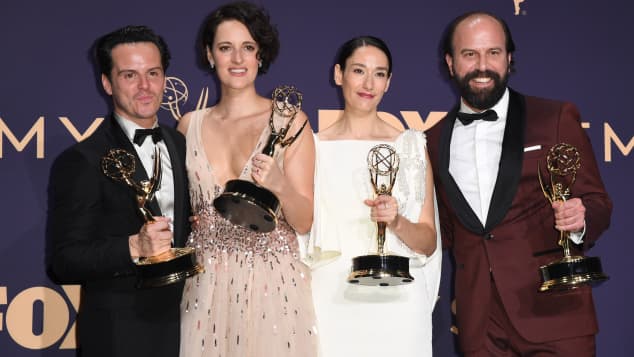 (© Getty Images)
Bester Nebendarsteller – Comedy
Alan Arkin – "The Kominsky Method"
Anthony Carrigan – "Barry"
Tony Hale – "Veep – Die Vizepräsidentin"
Stephen Root – "Barry"
Tony Shalhoub – "The Marvelous Mrs. Maisel" - Gewinner
Henry Winkler – "Barry"
Beste Nebendarstellerin – Comedy
Alex Borstein – "The Marvelous Mrs. Maisel" - Gewinnerin
Anna Chlumsky – "Veep – Die Vizepräsidentin"
Sian Clifford – "Fleabag"
Olivia Colman – "Fleabag"
Betty Gilpin – "Glow"
Sara Goldberg – "Barry"
Marin Hinkle – "The Marvelous Mrs. Maisel"
Kate McKinnon – "Saturday Night Live"